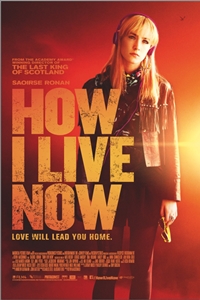 Opening Date:
November 8, 2013
Cast:
Saoirse Ronan, Tom Holland, Anna Chancellor, George MacKay, Corey Johnson, Sophie Ellis, Harley Bird, Sabrina Dickens, Natasha Jonas, Gavin Sims
Director:
Kevin Macdonald
MPAA Rating:
R for violence, disturbing images, language and some sexuality
Synopsis:
Set in the near-future UK an American teenager, Daisy, is sent to stay with relatives in the English countryside. Initially withdrawn and alienated, she begins to warm up to her charming surroundings, and strikes up a romance with the handsome Edmund. But on the fringes of their idyllic summer days are tense news reports of an escalating conflict in Europe. As the UK falls into a violent, chaotic military state, Daisy finds herself hiding and fighting to survive.
How I Live Now (R)
Click bold theatre name for showtimes and tickets.
Showtimes available three days prior to opening.