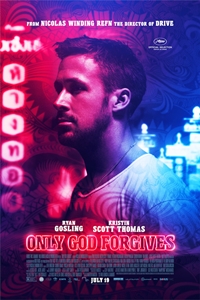 Opening Date:
July 19, 2013
Cast:
Ryan Gosling, Kristin Scott Thomas, Tom Burke, Yayaying, Vithaya Pansringarm, Byron Gibson, Gordon Brown, Sahajak Boonthanakit, Joe Cummings, Charlie Ruedpokanon
Director:
Nicolas Winding Refn
Genre:
Drama, Suspense/Thriller
MPAA Rating:
R for strong bloody violence including grisly images, sexual content and language
Synopsis:
Julian, a respected figure in the criminal underworld of Bangkok, runs a Thai boxing club and smuggling ring with his brother Billy. Billy is suddenly murdered and their crime lord matriarch, Crystal arrives from London to bring back the body. When Jenna forces Julian to settle the score with his brother's killers, Julian finds himself in the ultimate showdown.
Only God Forgives (R)
Click bold theatre name for showtimes and tickets.
Showtimes available three days prior to opening.