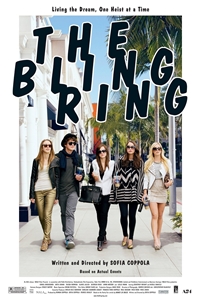 Release Date:
June 14, 2013
Cast:
Emma Watson, Leslie Mann, Taissa Farmiga, Claire Julien, Israel Broussard
MPAA Rating:
R for teen drug and alcohol use, and for language including some brief sexual references
Synopsis:
In the fame-obsessed world of Los Angeles, a group of teenagers take us on a thrilling and disturbing crime-spree in the Hollywood hills. Based on true events, the group, who were fixated on the glamorous life, tracked their celebrity targets online, and stole more than 3 million in luxury goods from their homes. Their victims included Paris Hilton, Orlando Bloom, and Rachel Bilson, and the gang became known in the media as "The Bling Ring."
The Bling Ring (R)
PLAYING MARCH 11 AT:
Show times are available on this date for theatres in bold type. Click theatre name for tickets.