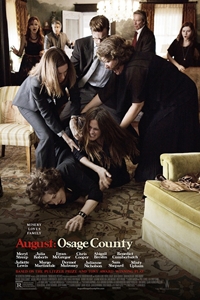 Opening Date:
December 27, 2013
Cast:
Meryl Streep, Julia Roberts, Ewan McGregor, Abigail Breslin, Benedict Cumberbatch, Chris Cooper, Juliette Lewis, Dermot Mulroney, Sam Shepard
MPAA Rating:
R for language including sexual references, and for drug material
Synopsis:
This tells the dark, hilarious and deeply touching story of the strong-willed women of the Weston family, whose lives have diverged until a family crisis brings them back to the Midwest house they grew up in, and to the dysfunctional woman who raised them.
August: Osage County (R)
Click bold theatre name for showtimes and tickets.
Showtimes available three days prior to opening.