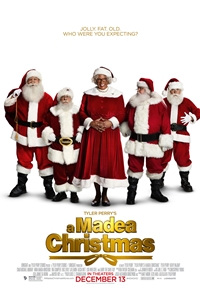 Release Date:
December 13, 2013
Cast:
Tyler Perry, Chad Michael Murray, Alicia Witt, Kathy Najimy, Tika Sumpter
MPAA Rating:
PG13 for sexual references, crude humor and language
Synopsis:
Madea gets coaxed into helping a friend pay her daughter a surprise visit in the country for Christmas, but the biggest surprise is what they'll find when they arrive. As the small, rural town prepares for its annual Christmas Jubilee, new secrets are revealed and old relationships are tested while Madea dishes her own brand of Christmas Spirit to all.
Tyler Perry's A Madea Christmas (PG13)
PLAYING MARCH 11 AT:
Show times are available on this date for theatres in bold type. Click theatre name for tickets.