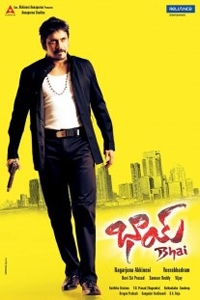 Release Date:
October 24, 2013
Cast:
Nagarjuna Akkineni, Richa Gangopadhyay, Sonu Sood, Ashish Vidyarthi, Brahmanandam
Genre:
Action/Adventure, Romance
Synopsis:
Nagarjuna will be seen in three shades. In one of the shades he will be seen as a righthand for a foriegn Don. In the second shade he will be seen as a tappori, while in the thrid shade he will be shown as a guy who is in search of his family. The first half of the movie will have the backdrop of mafia, while the second half will be filled with entertainment.
Bhai (NR)
PLAYING MARCH 10 AT:
Show times are available on this date for theatres in bold type. Click theatre name for tickets.