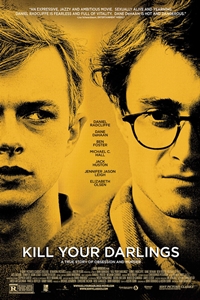 Release Date:
October 16, 2013
Cast:
Daniel Radcliffe, Dane DeHaan, Michael C. Hall, Jack Huston, Ben Foster
MPAA Rating:
R for sexual content, language, drug use and brief violence
Synopsis:
A true story of friendship, love and murder, the film recounts the pivotal year that changed Allen Ginsberg's life forever and provided the spark for him to start his creative revolution.
Kill Your Darlings (R)
PLAYING MARCH 11 AT:
Show times are available on this date for theatres in bold type. Click theatre name for tickets.