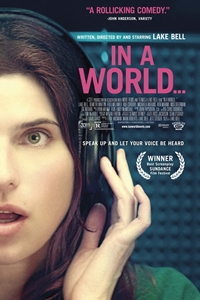 Opening Date:
January 20, 2013
Cast:
Lake Bell, Fred Melamed, Demetri Martin, Michaela Watkins, Ken Marino, Rob Corddry, Alexandra Holden, Nick Offerman, Geena Davis, Stephanie Allynne
MPAA Rating:
R for language including some sexual references
Synopsis:
Carol Solomon is a struggling vocal coach. Propelled by the hubris of her father, Sam Sotto, the reigning king of movie-trailer voice-over artists, Carol musters the courage to pursue her secret aspiration to be a voice-over star. Her fiery sister, Dani, becomes a trusted confidante, and Carol engages the skills of a charming sound techie named Louis. Armed with renewed confidence, Carol lands her first voice-over gig a primo spot nabbing the job from industry bad boy Gustav Warner. And then the real trouble begins. Carol becomes entangled in a web of dysfunction, sexism, unmitigated ego, and pride.
In a World... (R)
Click bold theatre name for showtimes and tickets.
Showtimes available three days prior to opening.