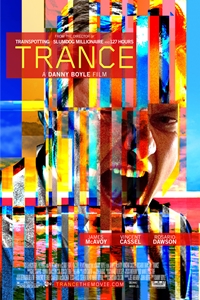 Opening Date:
April 5, 2013
Cast:
James McAvoy, Vincent Cassel, Rosario Dawson, Tuppence Middleton, Sam Creed, Lee Nicholas Harris, Danny Sapani, Ben Cura, Hamza Jeetooa
Genre:
Drama, Suspense/Thriller
MPAA Rating:
R for sexual content, graphic nudity, violence, some grisly images, and language
Synopsis:
Simon, a fine art auctioneer, teams up with a criminal gang to steal a Goya painting worth millions of dollars, but after suffering a blow to the head during the heist he awakens to discover he has no memory of where he hid the painting. When physical threats and torture fail to produce answers, the gang's leader Frank hires hypnotherapist Elizabeth Lamb to delve into the darkest recesses of Simon's psyche. As Elizabeth begins to unravel Simon's broken subconscious, the line between truth, suggestion, and deceit begin to blur.
Trance (R)
Click bold theatre name for showtimes and tickets.
Showtimes available three days prior to opening.