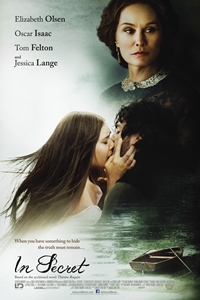 Opening Date:
February 21, 2014
Cast:
Jessica Lange, Elizabeth Olsen, Tom Felton, Shirley Henderson, Oscar Isaac, Matt Lucas, Mackenzie Crook, John Kavanagh, Lily Laight
Director:
Charlie Stratton
Genre:
Drama, Suspense/Thriller
MPAA Rating:
R for sexual content and brief violent images
Synopsis:
Set in the lower echelons of 1860s Paris, Therese Raquin, a sexually repressed beautiful young woman, is trapped into a loveless marriage to her sickly cousin, Camille, by her domineering aunt, Madame Raquin. Therese spends her days confined behind the counter of a small shop and her evenings watching Madame play dominoes with an eclectic group. After she meets her husband's alluring friend, Laurent, she embarks on an illicit affair that leads to tragic consequences.
In Secret (Therese) (R)
Click bold theatre name for showtimes and tickets.
Showtimes available three days prior to opening.