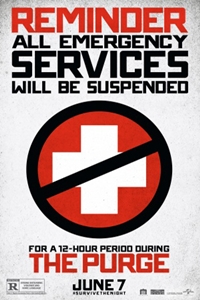 Opening Date:
June 7, 2013
Cast:
Lena Headey, Ethan Hawke, Max Burkholder, Edwin Hodge, Rhys Wakefield, Tony Oller, Adelaide Kane, Tom Yi
Genre:
SciFi/Fantasy, Suspense/Thriller
MPAA Rating:
R for strong disturbing violence and some language
Synopsis:
In a futuristic America plagued by crime, the government sanctions a 12-hour period once a year in which all criminal activity is legal. When an intruder breaks into the home of James Sandin and his family, they must try to survive the night without compromising their personal moral code.
The Purge (R)
Click bold theatre name for showtimes and tickets.
Showtimes available three days prior to opening.