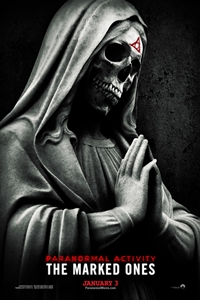 Release Date:
January 3, 2014
Cast:
Carlos Pratts, Richard Cabral, Kimberly Ables Jindra, Eddie J. Fernandez, Jorge Diaz
Director:
Christopher Landon
Genre:
Horror, Suspense/Thriller
MPAA Rating:
R for pervasive language, some violence, graphic nudity and some drug use
Synopsis:
A young California Latino named Jesse is marked for possession by the same malevolent demon who previously claimed Kristi and Katie.
Paranormal Activity: The Marked Ones (R)
PLAYING MARCH 12 AT:
Show times are available on this date for theatres in bold type. Click theatre name for tickets.