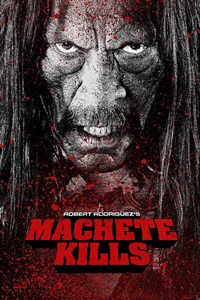 Release Date:
October 11, 2013
Cast:
Danny Trejo, Mel Gibson, Michelle Rodriguez, Sofia Vergara, Amber Heard
Director:
Robert Rodriguez
MPAA Rating:
R for strong bloody violence throughout, language and some sexual content
Synopsis:
In MACHETE KILLS, Danny Trejo returns as ex-Federale agent MACHETE, who is recruited by the President of the United States for a mission which would be impossible for any mortal man - he must take down a madman revolutionary and an eccentric billionaire arms dealer who has hatched a plan to spread war and anarchy across the planet.
Machete Kills (R)
PLAYING MARCH 8 AT:
Show times are available on this date for theatres in bold type. Click theatre name for tickets.