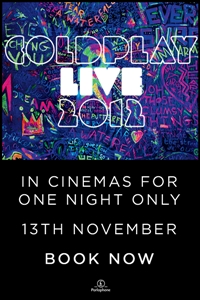 Release Date:
November 13, 2012
Cast:
Director:
Genre:
Concert, Documentary
Synopsis:
Coldplay Live 2012 is the band's first concert film/live album for nine years. It documents their acclaimed Mylo Xyloto world tour, which has been seen by more than three million people since it began in June 2011. Directed by Paul Dugdale, Live 2012 includes footage from Coldplay's shows at Paris's Stade de France, Montreal's Bell Centre and the band's triumphant Pyramid Stage headline performance at Glastonbury 2011.


Coldplay Live 2012 (PG)
PLAYING MARCH 12 AT:
Show times are available on this date for theatres in bold type. Click theatre name for tickets.