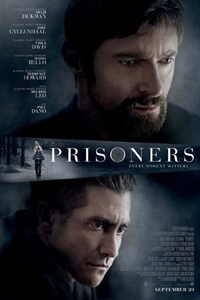 Opening Date:
September 20, 2013
Cast:
Jake Gyllenhaal, Hugh Jackman, Paul Dano, Melissa Leo, Maria Bello, Viola Davis, Dylan Minnette, Jane McNeill, Len Cariou, King
Director:
Denis Villeneuve
Genre:
Drama, Suspense/Thriller
MPAA Rating:
R for disturbing violent content including torture, and language throughout
Synopsis:
Your child is missing. Every second counts. How far would you go? When his six year old daughter Anna goes missing along with her friend Joy, Keller Dover faces every parent's worst nightmare. The only lead is a dilapidated RV that had been spotted earlier on the street. Detective Loki is put in charge of the investigation and immediately arrests the driver of the RV, Alex Jones, however a lack of physical evidence forces them to release him. With the police pursuing different leads to no avail and his family life disintegrating, a desperate Keller decides to take matters into his own hands. But just how far will he go to save his daughter?
Prisoners (R)
Click bold theatre name for showtimes and tickets.
Showtimes available three days prior to opening.