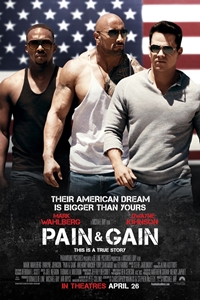 Opening Date:
April 26, 2013
Cast:
Mark Wahlberg, Dwayne Johnson, Rebel Wilson, Anthony Mackie, Ed Harris, Ken Jeong, Rob Corddry, Tony Shalhoub, Kurt Angle, William Haze
Genre:
Action/Adventure, Comedy, Drama
MPAA Rating:
R for bloody violence, crude sexual content, nudity, language throughout and drug use
Synopsis:
Based on a true story about a group of steroid-abusing bodybuilders engage in a campaign of kidnapping, extortion and murder in Florida.
Pain & Gain (R)
Click bold theatre name for showtimes and tickets.
Showtimes available three days prior to opening.