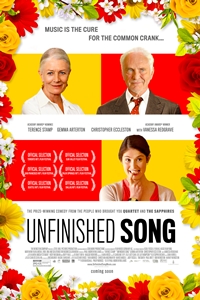 Release Date:
June 21, 2013
Cast:
Terence Stamp, Vanessa Redgrave, Christopher Eccleston, Gemma Arterton, Anne Reid
Director:
Paul Andrew Williams
MPAA Rating:
PG13 for some sexual references and rude gestures
Synopsis:
This is the funny and uplifting story of Arthur, a curmudgeon old soul perfectly content with sticking to his dull daily routine until his beloved wife introduces him to a spirited local singing group led by the youthful and charming Elizabeth. This unexpected friendship and his discovery of music revitalizes Arthur's passion for new adventures and shows us all life should be celebrated at any age.
Unfinished Song (Song for Marion) (PG13)
PLAYING MARCH 7 AT:
Show times are available on this date for theatres in bold type. Click theatre name for tickets.