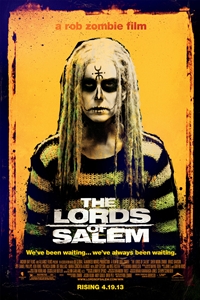 Release Date:
April 19, 2013
Cast:
Maria Conchita Alonso, Clint Howard, Michael Berryman, Sheri Moon Zombie, Dee Wallace
Genre:
Horror, Suspense/Thriller
MPAA Rating:
R for disturbing violent and sexual content, graphic nudity, language and some drug use
Synopsis:
The film tells the tale of Heidi, a radio station DJ living in Salem, Massachusetts, who receives a strange wooden box containing a record, a "gift from the Lords." Heidi listens, and the bizarre sounds within the grooves immediately trigger flashbacks of the town's violent past. Is Heidi going mad, or are the "Lords of Salem" returning for revenge on modern-day Salem?
The Lords of Salem (R)
PLAYING MARCH 8 AT:
Show times are available on this date for theatres in bold type. Click theatre name for tickets.