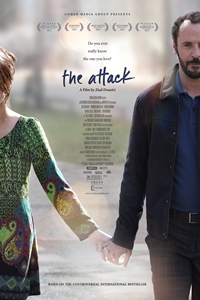 Opening Date:
June 21, 2013
Cast:
Ali Suliman, Evgenia Dodena, Reymond Amsalem, Dvir Benedek, Uri Gavriel, Ruba Salameh, Karim Saleh, Ramzi Makdessi
MPAA Rating:
R for some violent images, language and brief sexuality
Synopsis:
An Arab doctor learns his wife was a suicide bomber in Tel Aviv and delves into their past to learn the truth.
The Attack (R)
Click bold theatre name for showtimes and tickets.
Showtimes available three days prior to opening.