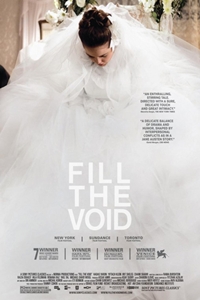 Release Date:
May 24, 2013
Cast:
Hadas Yaron, Yiftach Klein, Irit Sheleg, Chaim Sharir, Ido Samuel
Director:
Rama Burshtein, Yigal Bursztyn
MPAA Rating:
PG for mild thematic elements and brief smoking
Synopsis:
Eighteen-year-old Shira, an Orthodox Hassid living in Tel Aviv, is looking forward to marrying a handsome, promising boy of her own age. But when her elder sister dies in childbirth and the father considers leaving Israel to re-marry, Shira's mother proposes a union between her daughter and son-in-law to keep her only grandchild in the country. Shira must then make the terrible choice between her heart's desire and her family duty...

Fill the Void (Lemale et ha'halal) (PG)
PLAYING MARCH 10 AT:
Show times are available on this date for theatres in bold type. Click theatre name for tickets.