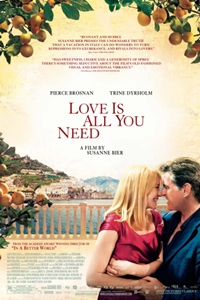 Cast:
Trine Dyrholm, Pierce Brosnan, Kim Bodnia, Paprika Steen, Christiane Schaumburg-Müller
Genre:
Romance, Comedy, Drama
MPAA Rating:
R for brief sexuality, nudity and some language
Synopsis:
Philip, an Englishman living in Denmark, is a lonely, middle-aged widower and estranged single father. Ida is a Danish hairdresser, recuperating from a long bout of illness, who's just been left by her husband for a younger woman, Tilde. The fates of these two bruised souls are about to intertwine, as they embark for a trip to Italy to attend the wedding of Patrick and Astrid, Philip's son and Ida's daughter.
Love Is All You Need (R)
PLAYING MARCH 10 AT:
Show times are available on this date for theatres in bold type. Click theatre name for tickets.