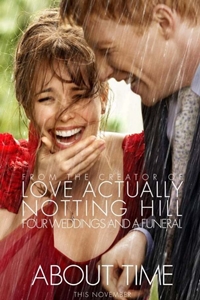 Opening Date:
October 25, 2013
Cast:
Rachel McAdams, Bill Nighy, Tom Hollander, Domhnall Gleeson, Margot Robbie, Lee Asquith-Coe, Lindsay Duncan, Catherine Steadman, Paige Segal, Lisa Eichhorn
MPAA Rating:
R for language and some sexual content
Synopsis:
The night after another unsatisfactory New Year party, Tim's father tells his son that the men in his family have always had the ability to travel through time. Tim can't change history, but he can change what happens and has happened in his own life-so he decides to make his world a better place...by getting a girlfriend. Sadly, that turns out not to be as easy as you might think.
About Time (R)
Click bold theatre name for showtimes and tickets.
Showtimes available three days prior to opening.