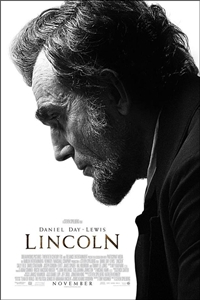 Release Date:
November 9, 2012
Cast:
Daniel Day-Lewis, Sally Field, Jackie Earle Haley, Tommy Lee Jones, Joseph Gordon-Levitt
Director:
Steven Spielberg
MPAA Rating:
PG13 for an intense scene of war violence, some images of carnage and brief strong language
Synopsis:
A revealing drama that focuses on the 16th President's tumultuous final months in office. In a nation divided by war and the strong winds of change, Lincoln pursues a course of action designed to end the war, unite the country and abolish slavery. With the moral courage and fierce determination to succeed, his choices during this critical moment will change the fate of generations to come.
Lincoln (PG13)
PLAYING MARCH 12 AT:
Show times are available on this date for theatres in bold type. Click theatre name for tickets.