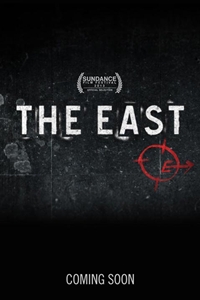 Opening Date:
May 31, 2013
Cast:
Alexander Skarsgård, Ellen Page, Brit Marling, Toby Kebbell, Shiloh Fernandez, Patricia Clarkson, Julia Ormond, Aldis Hodge, Billy Magnussen
Genre:
Action/Adventure, Drama
MPAA Rating:
PG13 for thematic elements, violence, some disturbing images, sexual content and partial nudity
Synopsis:
A former FBI agent, Sarah Moss, is starting a new career at Hiller Brood, an elite private intelligence firm that ruthlessly protects the interests of its A-list corporate clientele. Handpicked for a plum assignment by the company's head honcho, Sharon, Sarah goes deep undercover to infiltrate The East, an elusive anarchist collective seeking revenge against major corporations guilty of covering up criminal activity. Determined, highly-trained and resourceful, Sarah soon ingratiates herself with the group, overcoming their initial suspicions and joining them on their next action or "jam." But living closely with the intensely committed members of The East, Sarah finds herself torn between her two worlds as she starts to connect with anarchist Benji and the rest of the collective, and awakens to the moral contradictions of her personal life.
The East (PG13)
Click bold theatre name for showtimes and tickets.
Showtimes available three days prior to opening.