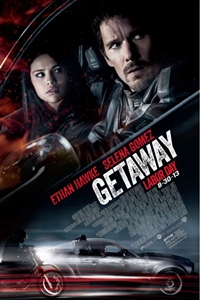 Opening Date:
August 30, 2013
Cast:
Ethan Hawke, Selena Gomez, Jon Voight, Paul Freeman, Bruce Payne, Rebecca Budig
Director:
Courtney Solomon
MPAA Rating:
PG13 for intense action, violence and mayhem throughout, some rude gestures, and language
Synopsis:
GETAWAY is a gritty, heart-pounding action thriller starring Academy Award® nominee Ethan Hawke ("Training Day," "The Purge," "Before Midnight"), actress and international music sensation Selena Gomez ("Springbreakers," "Wizards of Waverly Place"), and Academy Award® winner Jon Voight ("Coming Home," the "National Treasure" films). The film is directed by Courtney Solomon ("An American Haunting").

Former race car driver Brent Magna (Hawke) is pitted against the clock. Desperately trying to save the life of his kidnapped wife, Brent commandeers a custom Ford Shelby GT500 Super Snake, taking it and its unwitting owner (Gomez) on a high-speed race against time, at the command of the mysterious villain holding his wife hostage.

Getaway (PG13)
Click bold theatre name for showtimes and tickets.
Showtimes available three days prior to opening.