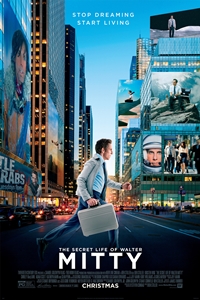 Opening Date:
December 25, 2013
Cast:
Kristen Wiig, Ben Stiller, Sean Penn, Adam Scott, Kathryn Hahn, Josh Charles, Shirley MacLaine, Patton Oswalt, Terence Bernie Hines, Adrian Martinez
Genre:
Action/Adventure, Comedy, Drama
MPAA Rating:
PG for some crude comments, language and action violence
Synopsis:
The Secret Life of Walter Mitty is James Thurber's classic story of a day-dreamer who escapes his anonymous life by disappearing into a world of fantasies filled with heroism, romance and action. When his job along with that of his co-worker are threatened, Walter takes action in the real world embarking on a global journey that turns into an adventure more extraordinary than anything he could have ever imagined.
The Secret Life of Walter Mitty (PG)
Click bold theatre name for showtimes and tickets.
Showtimes available three days prior to opening.