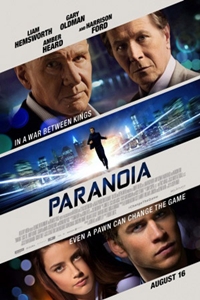 Opening Date:
August 16, 2013
Cast:
Liam Hemsworth, Gary Oldman, Amber Heard, Harrison Ford, Lucas Till, Embeth Davidtz, Julian McMahon, Josh Holloway, Richard Dreyfuss, Angela Sarafyan
Genre:
Drama, Suspense/Thriller
MPAA Rating:
PG13 for some sexuality, violence and language
Synopsis:
In this high-stakes thriller, Adam Cassidy is a regular guy trying to get ahead in his entry-level job at Wyatt Corporation. But after one costly mistake, Adam's ruthless CEO, Nicholas Wyatt, forces him to spy on corporate rival, Jock Goddard, Wyatt's old mentor. Adam soon finds himself occupying the corner office and living the life of his dreams. However, behind the scenes, he is simply a pawn in Wyatt's corporate game and realizes he must ultimately find a way out from under his boss who will stop at nothing, even murder, to win a multi-billion dollar advantage.
Paranoia (PG13)
Click bold theatre name for showtimes and tickets.
Showtimes available three days prior to opening.