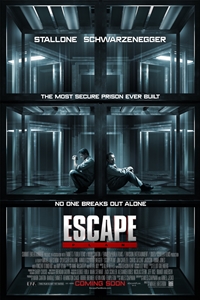 Opening Date:
October 18, 2013
Cast:
Sylvester Stallone, Arnold Schwarzenegger, Curtis Jackson, Jim Caviezel, Amy Ryan, Vincent D'Onofrio, Vinnie Jones, Sam Neil, Faran Tahir, Matt Gerald
Director:
Mikael Håfström
Genre:
Action/Adventure, Suspense/Thriller
MPAA Rating:
R for violence and language throughout
Synopsis:
Ray Breslin, the world's foremost authority on structural security, agrees to take on one last job: breaking out of an ultra-secret, high-tech facility called "The Tomb." But when he is wrongly imprisoned, he must recruit fellow inmate Emil Rottmayer to help devise a daring, nearly impossible plan to escape from the most protected and fortified prison ever built.
Escape Plan (R)
Click bold theatre name for showtimes and tickets.
Showtimes available three days prior to opening.