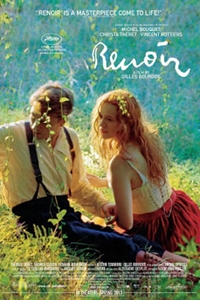 Release Date:
March 29, 2013
Cast:
Michel Bouquet, Vincent Rottiers, Christa Theret, Thomas Doret, Michele Gleizer
MPAA Rating:
R for sequences of art-related nudity and brief language
Synopsis:
Set on the French Riviera in the summer of 1915, Gilles Bourdos' lushly atmospheric drama RENOIR tells the story of celebrated Impressionist painter Pierre-Auguste Renoir, in declining health at age 74, and his middle son Jean, who returns home to convalesce after being wounded in World War I.The elder Renoir is filled with a new, wholly unexpected energy when a young girl miraculously enters his world. Blazing with life, radiantly beautiful, Andrée will become his last model, and the wellspring of a remarkable rejuvenation. At the same time, Jean also falls under the spell of the free-spirited young Andrée. Their beautiful home and majestic countryside grounds reverberate with familial intrigue, as both Renoirs, père et fils, become smitten with the enchanting and headstrong young muse.

Renoir (R)
PLAYING MARCH 7 AT:
Show times are available on this date for theatres in bold type. Click theatre name for tickets.