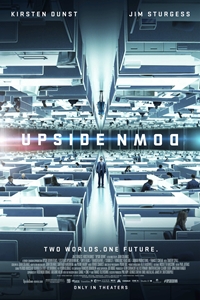 Opening Date:
March 15, 2013
Cast:
Kirsten Dunst, Jim Sturgess, Jayne Heitmeyer, Neil Napier, Larry Day, John Maclaren, Heidi Hawkins, Don Jordan, Agnieshka Wnorowska
Director:
Juan Diego Solanas
MPAA Rating:
PG13 for some violence
Synopsis:
Ever since Adam and Eden fell in love as teens, their bond has faced astronomical odds. The pair are separated not just by social class and a political system bent on keeping them apart, but also by a freak planetary condition: they live on twinned worlds with gravities that pull in opposite directions - he on the poverty-stricken planet below, she on the wealthy, exploitative world above. Their budding but illicit romance screeches to a tragic halt when interplanetary-border patrol agents catch them and Eden suffers an apparently fatal fall. But when, ten years later, Adam learns she is alive and working at a vast corporation whose towering headquarters connects their planets, he sets out on a dangerous quest to infiltrate the company and the upper world to reconnect with her.
Upside Down (2012) (PG13)
Click bold theatre name for showtimes and tickets.
Showtimes available three days prior to opening.