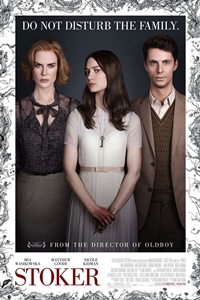 Release Date:
January 20, 2013
Cast:
Nicole Kidman, Dermot Mulroney, Mia Wasikowska, Matthew Goode, Lucas Till
Genre:
Drama, Horror, Suspense/Thriller
MPAA Rating:
R for disturbing violent and sexual content
Synopsis:
After India's father dies in an auto accident, her Uncle Charlie, who she never knew existed, comes to live with her and her emotionally unstable mother. Soon after his arrival, she comes to suspect this mysterious, charming man has ulterior motives, but instead of feeling outrage or horror, this friendless girl becomes increasingly infatuated with him.
Stoker (R)
PLAYING MARCH 8 AT:
Show times are available on this date for theatres in bold type. Click theatre name for tickets.