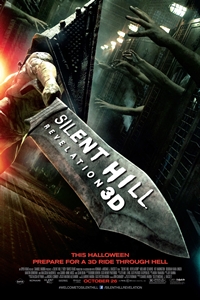 Release Date:
October 26, 2012
Cast:
Adelaide Clemens, Kit Harington, Carrie-Anne Moss, Sean Bean, Radha Mitchell
Director:
Michael J. Bassett
Genre:
Horror, Suspense/Thriller
MPAA Rating:
R for violence and disturbing images, some language and brief nudity
Synopsis:
Heather Mason has long been on the run, always one step ahead of dangerous forces that she does not fully understand. Now, on the eve of Heather's 18th birthday, plagued by horrific nightmares and the disappearance of her father, Heather discovers she is not who she thinks she is. The revelation leads her deeper into a demonic world that threatens to trap her in Silent Hill forever.
Silent Hill: Revelation (R)
PLAYING MARCH 11 AT:
Show times are available on this date for theatres in bold type. Click theatre name for tickets.