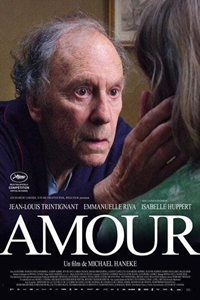 Release Date:
December 19, 2012
Cast:
Jean-Louis Trintignant, Emmanuelle Riva, Isabelle Huppert, Michael Haneke
MPAA Rating:
PG13 for mature thematic material including a disturbing act, and for brief language
Synopsis:
Octogenarians Georges and Anne are retired music teachers whose daughter lives abroad with her family. When Anne suffers a stroke and is left paralyzed on one side of her body, the couple's abiding love for each other is put to the test.
Amour (PG13)
PLAYING MARCH 12 AT:
Show times are available on this date for theatres in bold type. Click theatre name for tickets.