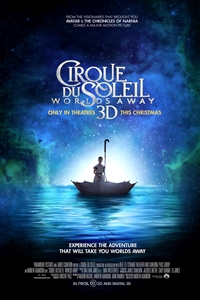 Release Date:
December 21, 2012
Cast:
Igor Zaripov, Erica Kathleen Linz
Genre:
Program, SciFi/Fantasy
MPAA Rating:
PG for some dramatic images and mild sensuality
Synopsis:
From the big top to the big screen, Academy Award-nominated director Andrew Adamson and visionary filmmaker James Cameron invite audiences on an all-new 3D adventure -- Cirque du Soleil Worlds Away. Two young people journey through the astonishing and dreamlike worlds of Cirque du Soleil to find each other as audiences experience the immersive 3D technology that allows them to leap, soar, swim and dance with the performers.
Cirque du Soleil: Worlds Away 3D (PG)
PLAYING MARCH 12 AT:
Show times are available on this date for theatres in bold type. Click theatre name for tickets.