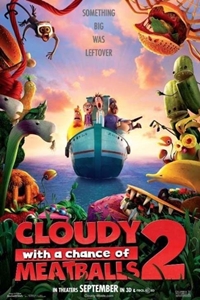 Release Date:
September 27, 2013
Cast:
Bill Hader, Anna Faris, James Caan, Will Forte, Kristen Schaal
Director:
Cody Cameron, Kris Pearn
MPAA Rating:
PG for mild rude humor
Synopsis:
Inventor Flint Lockwood thought he saved the world when he destroyed his most infamous invention -- a machine that turned water into food causing cheeseburger rain and spaghetti tornadoes. But Flint soon learns that his invention survived and is now creating food-animals - "foodimals!" Flint and his friends embark on a dangerously delicious mission to battle hungry tacodiles, shrimpanzees, hippotatomuses, cheespiders and other foodimals to save the world - again!
Cloudy With a Chance of Meatballs 2 (PG)
PLAYING MARCH 9 AT:
Show times are available on this date for theatres in bold type. Click theatre name for tickets.