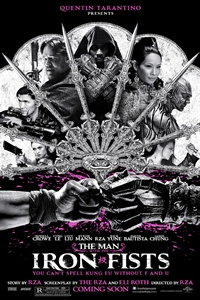 Release Date:
November 2, 2012
Cast:
Russell Crowe, Lucy Liu, Jamie Chung, Dave Bautista, Pam Grier
MPAA Rating:
R for bloody violence, strong sexuality, language and brief drug use
Synopsis:
Since his arrival in China's Jungle Village, the town's blacksmith has been forced by radical tribal factions to create elaborate tools of destruction. When the clans' brewing war boils over, the stranger channels an ancient energy to transform himself into a human weapon. As he fights alongside iconic heroes and against soulless villains, one man must harness this power to become savior of his adopted people.
The Man with the Iron Fists (R)
PLAYING MARCH 9 AT:
Show times are available on this date for theatres in bold type. Click theatre name for tickets.