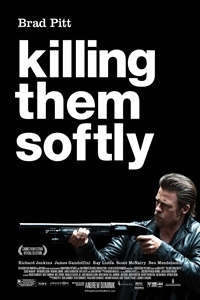 Release Date:
November 30, 2012
Cast:
Brad Pitt, Scoot McNairy, Ben Mendelsohn, James Gandolfini, Vincent Curatola
MPAA Rating:
R for violence, sexual references, pervasive language and some drug use
Synopsis:
Three dumb guys who think they're smart rob a Mob protected card game, causing the local criminal economy to collapse. An enforcer named Cogan is hired to track them down and restore order.
Killing Them Softly (R)
PLAYING MARCH 10 AT:
Show times are available on this date for theatres in bold type. Click theatre name for tickets.