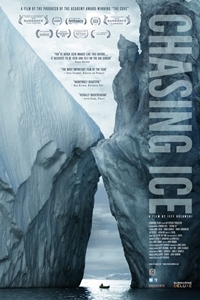 Release Date:
November 9, 2012
Cast:
James Balog, Svavar Jonatansson, Adam LeWinter, Jeff Orlowski
MPAA Rating:
PG13 for brief strong language
Synopsis:
Acclaimed photographer James Balog was once a skeptic about climate change. But through his Extreme Ice Survey, he discovers undeniable evidence of our changing planet. In Chasing Ice, Balog deploys revolutionary time-lapse cameras to capture a multi-year record of the world's changing glaciers. His hauntingly beautiful videos compress years into seconds and capture ancient mountains of ice in motion as they disappear at a breathtaking rate.
Chasing Ice (PG13)
PLAYING MARCH 11 AT:
Show times are available on this date for theatres in bold type. Click theatre name for tickets.