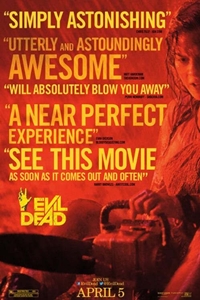 Release Date:
April 5, 2013
Cast:
Jane Levy, Shiloh Fernandez, Jessica Lucas, Lou Taylor Pucci, Elizabeth Blackmore
Genre:
Horror, Suspense/Thriller
MPAA Rating:
R for strong bloody violence and gore, some sexual content and language
Synopsis:
In the much anticipated remake of the 1981 cult-hit horror film, five twenty-something friends become holed up in a remote cabin. When they discover a Book of the Dead, they unwittingly summon up dormant demons living in the nearby woods, which possess the youngsters in succession until only one is left intact to fight for survival.
Evil Dead (R)
PLAYING MARCH 10 AT:
Show times are available on this date for theatres in bold type. Click theatre name for tickets.