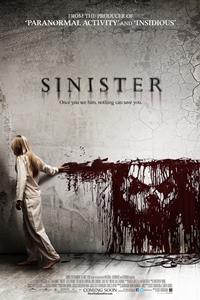 Opening Date:
October 12, 2012
Cast:
Ethan Hawke, Juliet Rylance, Vincent D'Onofrio, James Ransone, Fred Dalton Thompson, Nicholas King, Clare Foley, Victoria Leigh, Michael Hall D'Addario
Director:
Scott Derrickson
Genre:
Horror, Suspense/Thriller
MPAA Rating:
R for disturbing violent images and some terror
Synopsis:
A true crime novelist discovers a box of mysterious, disturbing home movies that plunge his family into a nightmarish experience of supernatural horror.
Sinister (R)
Click bold theatre name for showtimes and tickets.
Showtimes available three days prior to opening.