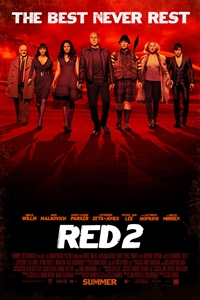 Opening Date:
July 19, 2013
Cast:
Bruce Willis, John Malkovich, Mary-Louise Parker, Anthony Hopkins, Helen Mirren, Catherine Zeta-Jones, Byung Hun Lee, Brian Cox, Neal McDonough
Genre:
Action/Adventure, Comedy
MPAA Rating:
PG13 for pervasive action and violence including frenetic gunplay, and for some language and drug material
Synopsis:
Retired black-ops CIA agent Frank Moses reunites his unlikely team of elite operatives for a global quest to track down a missing portable nuclear device. To succeed, they'll need to survive an army of relentless assassins, ruthless terrorists and power-crazed government officials, all eager to get their hands on the next-generation weapon. The mission takes Frank and his motley crew to Paris, London and Moscow. Outgunned and outmanned, they have only their cunning wits, their old-school skills, and each other to rely on as they try to save the world-and stay alive in the process.
Red 2 (PG13)
Click bold theatre name for showtimes and tickets.
Showtimes available three days prior to opening.