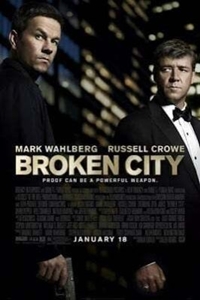 Release Date:
January 18, 2013
Cast:
Russell Crowe, Mark Wahlberg, Catherine Zeta-Jones, Kyle Chandler, Barry Pepper
Genre:
Drama, Suspense/Thriller
MPAA Rating:
R for pervasive language, some sexual content and violence
Synopsis:
When disgraced cop turned private detective Billy Taggart is hired by NYC's mayor to tail his wife, he uncovers a city-wide conspiracy of corruption, sex, and murder. With his life threatened at every turn, Billy finds himself faced with an impossible choice, which could have disastrous repercussions for his career and family.
Broken City (R)
PLAYING MARCH 10 AT:
Show times are available on this date for theatres in bold type. Click theatre name for tickets.