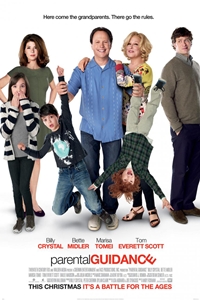 Opening Date:
December 25, 2012
Cast:
Billy Crystal, Bette Midler, Marisa Tomei, Tom Everett Scott, Bailee Madison, Joshua Rush, Kyle Harrison Breitkopf
MPAA Rating:
PG for some rude humor
Synopsis:
Old school grandfather Artie, who is accustomed to calling the shots, meets his match when he and his eager-to-please wife Diane agree to babysit their three grandkids when their type-A helicopter parents go away for work. But when 21st century problems collide with Artie and Diane's old school methods of tough rules, lots of love and old-fashioned games, it's learning to bend - and not holding your ground - that binds a family together
Parental Guidance (PG)
Click bold theatre name for showtimes and tickets.
Showtimes available three days prior to opening.