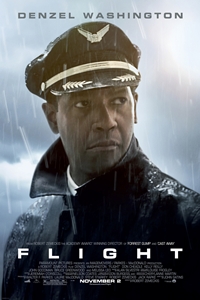 Release Date:
November 2, 2012
Cast:
Denzel Washington, Don Cheadle, Kelly Reilly, John Goodman, Bruce Greenwood
Director:
Robert Zemeckis
MPAA Rating:
R for drug and alcohol abuse, language, sexuality/nudity and an intense action sequence
Synopsis:
Whip Whitaker, a seasoned airline pilot, miraculously crash lands his plane after a mid-air catastrophe, saving nearly every soul on board. After the crash, Whip is hailed as a hero, but as more is learned, more questions than answers arise as to who or what was really at fault and what really happened on that plane?
Flight (R)
PLAYING MARCH 12 AT:
Show times are available on this date for theatres in bold type. Click theatre name for tickets.