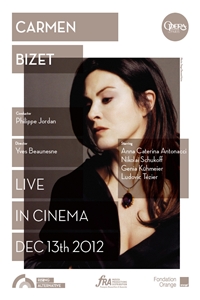 Cast:
Anna Caterina Antonacci, Nikolai Schukoff
Director:
Philippe Jordan, Yves Beaunesne
Synopsis:
Carmen has lust, betrayal, murder - not to mention some of the most famous music in the history of opera. Anna Caterina Antonacci tackles the title role with fire and intensity in this spectacular production from the Opera de Paris.
Opera De Paris: Carmen (NR)
PLAYING MARCH 10 AT:
Show times are available on this date for theatres in bold type. Click theatre name for tickets.