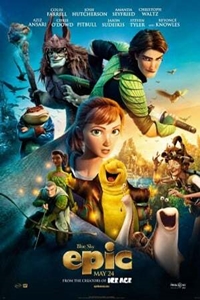 Opening Date:
May 24, 2013
Cast:
Beyonce Knowles, Colin Farrell, Josh Hutcherson, Amanda Seyfried, Aziz Ansari, Judah Friedlander, Pitbull, Jason Sudeikis, Steven Tyler
Genre:
Animation, Family, Action/Adventure
MPAA Rating:
PG for mild action, some scary images and brief rude language
Synopsis:
"Epic" tells the story of an ongoing battle deep in the forest between the forces of good and the forces of evil. When a teen age girl finds herself magically transported into this secret universe, she must band together with a rag-tag team of fun and whimsical characters in order to save their world... and ours.
Epic (PG)
Click bold theatre name for showtimes and tickets.
Showtimes available three days prior to opening.