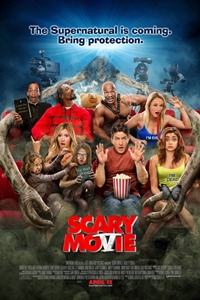 Opening Date:
April 12, 2013
Cast:
Ashley Tisdale, Simon Rex, Erica Ash, J.P. Manoux, Molly Shannon, Terry Crews, Heather Locklear, Charlie Sheen, Lindsay Lohan, Chris Elliot
MPAA Rating:
PG13 for crude and sexual content throughout, language, some drug material, partial nudity, comic violence nad gore
Synopsis:
The latest installment of the SCARY MOVIE franchise includes send ups of PARANORMAL ACTIVITY, MAMA, SINISTER, THE EVIL DEAD, INCEPTION, BLACK SWAN and pop culture featuring Ashley Tisdale, Charlie Sheen, Lindsay Lohan, Snoop Dogg, Katt Williams, Molly Shannon, Terry Crews, Simon Rex, Jerry O'Connell, Sarah Hyland, Katrina Bowden, Tyler Posey, Shad Moss aka Bow Wow, Kate Walsh, Heather Locklear, Mac Miller and Mike Tyson. This film is directed by Malcolm Lee who teamed up and worked side by side with legendary comedy director David Zucker (AIRPLANE, THE NAKED GUN franchises). Zucker wrote and directed SCARY MOVIE 3 and 4 and also co-wrote and produced SCARY MOVIE V.
Scary Movie V (PG13)
Click bold theatre name for showtimes and tickets.
Showtimes available three days prior to opening.