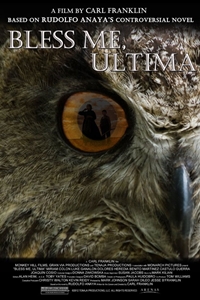 Release Date:
February 22, 2013
Cast:
Luke Ganalon, Miriam Colon, Benito Martinez, Dolores Heredia, Castulo Guerra
MPAA Rating:
PG13 for some violence and sexual references
Synopsis:
During World War II, a mysterious medicine woman, Ultima, moves in with young Antonio Marez' family. As she teaches Antonio about the spiritual world, Antonio begins to question the strict Catholic doctrine he has learned from his parents. A series of mysterious events forces Antonio to face difficult questions about good and evil, destiny and how to reconcile Ultima's abilities with the Catholic church's teachings.
Bless Me, Ultima (PG13)
PLAYING MARCH 10 AT:
Show times are available on this date for theatres in bold type. Click theatre name for tickets.