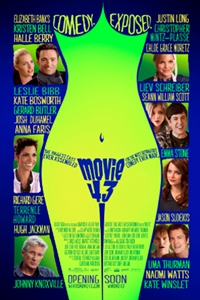 Release Date:
January 25, 2013
Cast:
Emma Stone, Seann William Scott, Kristen Bell, Gerard Butler, Christopher Mintz-Plasse
Director:
Elizabeth Banks, Steven Brill, Stev
MPAA Rating:
R for strong pervasive crude and sexual content including dialogue, graphic nudity, language, some violence
Synopsis:
An outrageous new ensemble comedy starring some of the biggest names in Hollywood. Movie 43 is not for the easily-offended and contains jaw-dropping, sometimes shockingly disturbing, but always entertaining intertwined storylines you'll have to see to believe.
Movie 43 (R)
PLAYING MARCH 10 AT:
Show times are available on this date for theatres in bold type. Click theatre name for tickets.