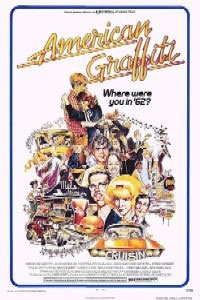 Release Date:
January 1, 1973
Cast:
Richard Dreyfuss, Ronny Howard, Paul Le Mat, Charles Martin Smith, Cindy Williams
Synopsis:
This Academy Award-nominated classic, voted one of the American Film Institute's top 100 Films Of All Time, features the coming of age of four teenagers on their last summer night before college. Rediscover drag racing, Inspiration Point and drive-ins all over again in this nostalgic look back at the early '60s. The incredible soundtrack brings you the most memorable rock 'n' roll hits of the era. Directed by George Lucas and produced by Francis Ford Coppola, this classic stars Harrison Ford, Richard Dreyfuss, Ron Howard, Suzanne Somers, Cindy Williams, Wolfman Jack and Mackenzie Phillips. Capture the heart of America's last age of innocence with American Graffiti.
American Graffiti (PG)
PLAYING MARCH 11 AT:
Show times are available on this date for theatres in bold type. Click theatre name for tickets.